People of all ages and all abilities are encouraged to participate in Hosanna's music ministry ensembles from the youngest to the oldest and from the least experience to the seasoned veteran.
Grace Team
Grace leads our contemporary worship services once a month. Singers and instrumentalists of all ages are welcome to join us. Grace rehearses at 6:30 pm Thursday of the week they lead worship. 
Hosanna Choir
A volunteer mixed choir for 8th grade students – adults who enjoy singing songs of the Christian faith and sharing these songs and leading hymns/liturgy during worship services. People of all singing experience levels are welcome to participate as often as they can (no auditions nor required minimum attendance). Hosanna Choir meets on Wednesdays at 7:15-8:00 pm at Hosanna.  
Children's Music
"All God's children have a place in the choir" is true at Hosanna as all 3 year olds – grade 6 students attend music sessions and learn Christian songs during the education time.
Musical
Bible stories and overall faith messages are brought to life through these musicals as Kindergarten – adult participants act, sing, move, play and become connected to each other. Starting in 1992, Hosanna has presented 28 musicals to the congregation and in the community as outreach.
Praise!
This beginning music level ensemble provides the opportunity to try your hand at playing handchimes and handbells while developing music reading skills. Open to students in 2nd grade through adults of any age, this intergenerational group is for those with less experience ringing and reading music or for families or for experienced persons who want to mentor others. Praise! rehearsals are on Wednesdays from 5:00-5:30 pm in the sanctuary.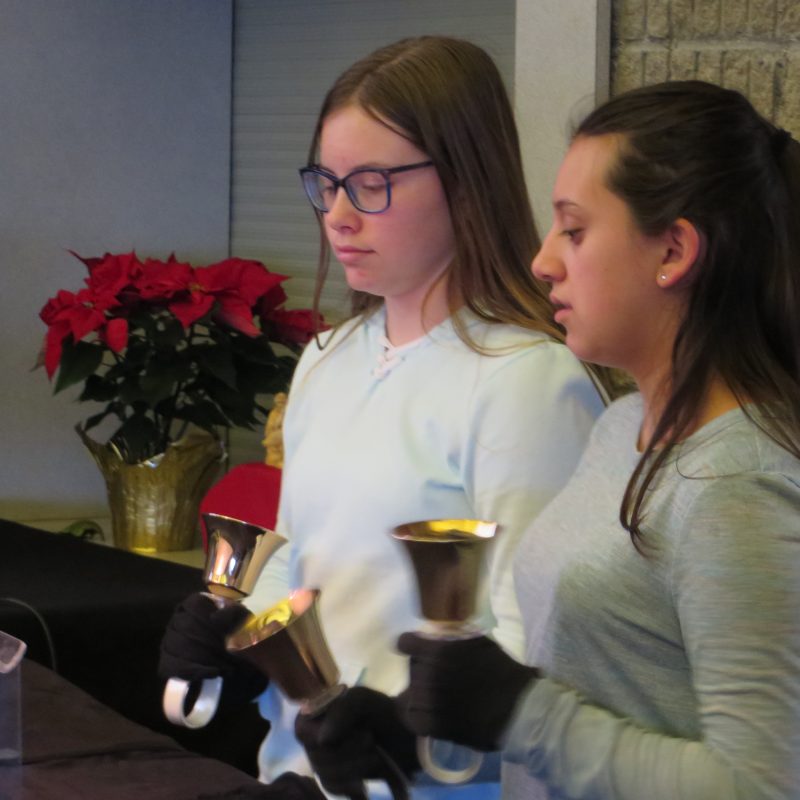 King's Ringers
This is a handbell ensemble for high school students and adults who are more experienced with ringing handbells and reading music.  King's Ringers meets on Wednesday evenings at 6:30 during the school year to play handbells and prepare music to share during worship services.  
For more information about music ministries at Hosanna contact